Let Us Help You Create Higher-Quality Embroidery That Attracts More Repeat Customers Using Our
Proven System!
We Help Embroiderers Succeed!
Let me ask you some questions?
You want to get started with your Embroidery Business but you do not know where to start?
A friend brought you some shirts to embroidery, but you don't know what type of embroidery backing or stabilizer you should use for this fabric?
You see holes in your garments after you finish the embroidery! Now what do you do?
Your design just does not look the same on the moisture-wicking or stretchy fabrics! What did I do wrong?
Your shirt is puckered after you finish the embroidery! How do I avoid this?
You have no idea what to charge for your embroidery?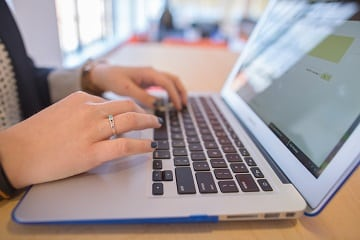 If this sounds like anything that you have had to face, we are here to help! We have the tools that you will need to help you get off to a fast start without hurting your budget! When you are first learning how to embroider and are seriously thinking about starting your own embroidery business, you need a good foundation to help you start off strong! 
You need to learn how to embroider professionally and how to create basic lettering that will help you bring in customers and bring back customers!  This is the first step in trying to build your business. 
I know how frustrating it is to try and get your embroidery business started when you do not have any help! It took me a long time and a lot of mistakes before I finally figured out how to get my business running the right way.  It's not that hard when you have the right guidance!
Meet Joyce Jagger, The Embroidery Coach
Joyce Jagger, The Embroidery Coach is an expert in Embroidery Business Training and currently has the longest-running Embroidery Coaching Program on the Internet.

As a former owner of a profitable embroidery business, I am now in the business of helping you start your own profitable embroidery business or help you take your current embroidery business to a higher profit level. I have spent over a decade helping other embroiderers get started and increase their profits. Embroidery can be a very lucrative business when you have the right systems, approaches, and tools in place!
You do not have to do this alone, I am here to help!
Building An Embroidery Business Is Not Easy When You Have To Do It Alone!
It can be exciting and overwhelming at the same time! There is so much to do, so much to learn and so many areas to prepare for before you can even open the doors for business. Following this step by step embroidery training will give you a firm foundation, shorten your learning curve and will begin to set you up for success. You will be up and running quickly!
Introducing:

The Beginner (Gold) Level of "The Embroidery
Business Academy!" 

Skill Set No. 1 – Master Embroidery Skills 
Your first skill is to learn how to embroider professionally. There are many basic details that you need to know to start your embroidery business and help you get set up to learn how to embroider professionally. 
 "How To Start An Embroidery Business"
Planning Your Embroidery Business 
In this module, you will do all of your Preliminary planning for your embroidery business which will help build a Firm Foundation for your Embroidery Business!
Set Your Goals
Research Equipment & Software
Downloadable Forms
Plan & Organize Floor Space
Planning Sheets
Lists of Tools & Supplies
"Embroidery Basics" 
Inside of Embroidery Basics, you will find multiple videos in each category on where to learn the basics of how to hoop your garments, Design Placement and more.
You will receive easy to understand instructions that include many basic techniques…such as:

I share my insider secrets from over 40 years of experience that you can't find in any classroom. What this means to you is less trial and error! I once had a teacher tell me that "Smart people learn by their mistakes, but Smarter people learn from other people's mistakes!" That is what I want for you! There is no reason for you to go through what I did, you can learn and profit from my mistakes!
"Embroidery Design Basics" 
These Step by Step videos will give you the skills to tackle embroidery jobs that you previously had to turn down and will greating increase your monthly revenue. 

Learning these skills will help you be the best embroiderer in your area of expertise. You want to be able to offer the best quality embroidery for your area or niche market and be the go-to embroiderer that everyone wants to work with. 
"Embroidery Design Creation & Editing" 
I do not mean design digitizing when I say Design Creation & Editing.  If you learn how to edit embroidery designs and making them production friendly,  they will sew out easily and quickly without any issues.  You want your designs to run without thread breaks. They are a waste of your production time. 


Bi-Weekly Training & Q & A 
Two times per month we have a live training that is recorded and added to the website. There will be time allowed to answer live any of your embroidery questions! A link will be sent to all members!
Let's Recap What Is Available To You In The Start-Up/Gold Level!
How To Start An Embroidery Business
Embroidery Basics
Embroidery Techniques
How To Embroidery Small Lettering
How To Use Embroidery Underlay Stitching
Embroidery Push & Pull Compensation
Improve Design Quality
Embroidery Applique
Puff or 3D Embroidery
How to Create Monograms
Create Embroidery Designs Using Letters
Embroidery Design Editing 101 & 102
Embroidery Business & Production Forms
Bi-Weekly All-Member Embroidery Lessons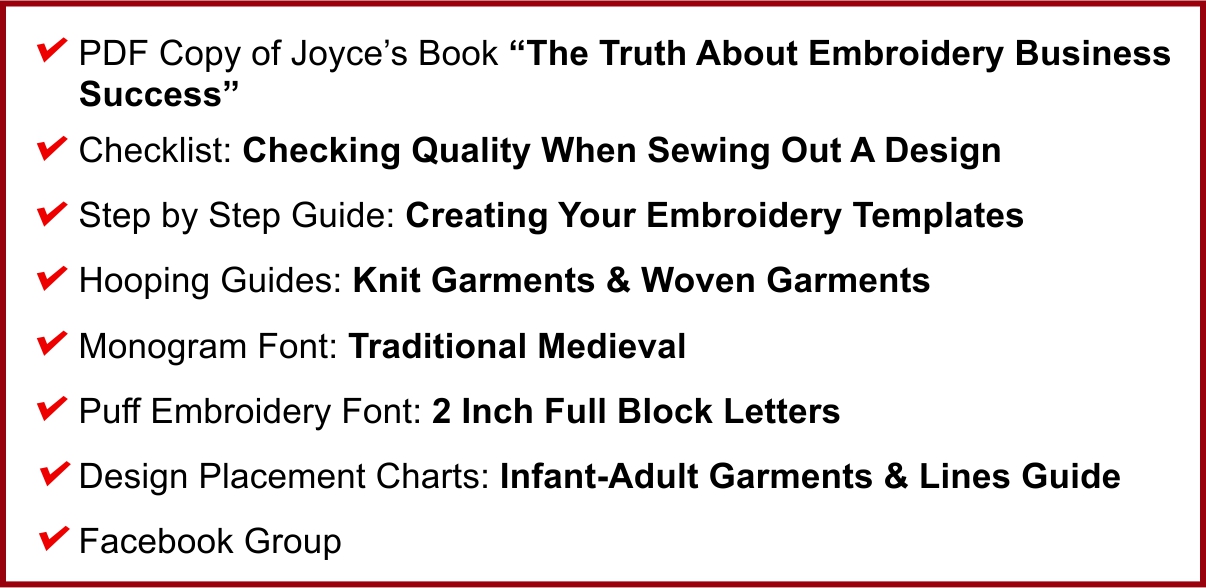 The 

"Start-Up/Gold Level"

is the perfect place to start if you are new to Embroidery and want to get started with a business. The skills that you will learn from The Embroidery Coach will help your business grow and these skills will be with you for the rest of your life! 
You have all of this information at your fingertips for a monthly investment of only 
$69.95 
or
an Annual Investment – 2 Months FREE!
$697.00
Available 24 hours a day, 7 days a week!
PS:  Don't let your competitors get this information before you have it.  You do not want them to get a head of you!