In this Embroidery Business Basics section is information about running your embroidery business. I have included basic forms for you to use which I created and used for my own business. These begin with taking an order and continue through to placing the packing slip in the box and getting your information ready for invoicing. There are also forms that will help you with your production process. I have also included a video showing you how to add your business name to the heading of the forms and how to create new forms as you need them.  
When you click on each gold link, it will take you to the correct module lower on the page.
To watch the videos in full-screen mode, click on the "Enter Full Screen" icon on the right bottom corner of the video.

In Organizing The Paperwork Flow, you will see a video that will explain all of the paperwork and how to use it. You are going to find Embroidery Business forms and Embroidery Production forms on this page that are ready for you to use. Many of these forms are excel spreadsheets that will allow you to customize the form for your own business use.
Video: Organizing The Paperwork Flow For Embroidery Production
In this embroidery training video, I show you how to organize your paperwork flow for your embroidery production. In this video, I go through all of the forms that I use: from taking the order all the way through to the packing slip. I have a copy of each one of these forms in the section below.
Download a copy of each form for use in your business. It is very important to stay organized and create a complete paperwork flow system.
Video: Learning How To Use & Create Excel Speadsheets! 
During this training, I go over how to work with the spreadsheets that are inside of The Embroidery Business Academy and create a Spreadsheet as you watch.   This spreadsheet can be used for keeping track of your Inventory.  Once you have your inventory added to your Inventory Sheet, you can then add the total amount to your "QuickBooks" Chart of Accounts Inventory account.  This is extremely useful and will help you keep track of all of your inventory and know exactly what you have invested in all of that inventory that is just taking up space.

Once you know how to work with spreadsheets, you can create any type of form that you would need for your business.
If you do not have Microsoft Excel, you can click on the link to Download A Free Program called Open Office.  Select the Spreadsheet program and it will work the same as Excel. 

Embroidery Business Basic Forms
In this Embroidery Business Basic Forms section, you will find all types of forms that you can use in your embroidery business. Save a copy in a folder on your hard drive so that you can pull it up each time you need it. Keep a printed stack at your desk to make it easy to grab one when you need it. Print each one of them out and save a copy in your Embroidery Information Binder.

Embroidery Production Forms
In this section, you will see a listing of all of the Embroidery Productions forms. These forms are used throughout the actual production process of your embroidery jobs. Print them out and store a copy in your Embroidery Information Binder. Make sure that you use these forms. Some of these forms are in Excel files so you can format them for your business.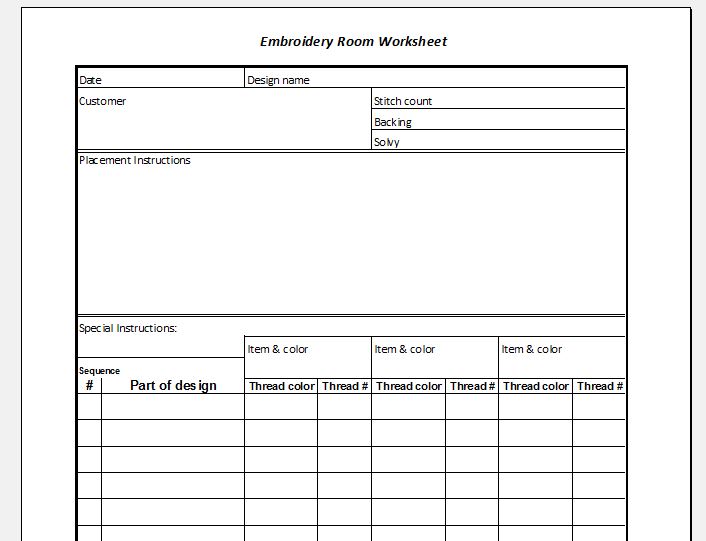 Embroidery Design Worksheet
This Embroidery Design Worksheet is extremely handy and will make retrieving information for re-orders very easy. This Embroidery Production form should be filled out and placed into your Embroidery Design Folder that will be filed away with all of the necessary information about that design. It will make your re-orders very easy to duplicate. A copy of this form can also be given to your customer. Many embroidery shops have no type of retrieval system for repeat orders. This looks very unprofessional to your customers and can end up being very costly if a mistake is made. You must have a way to retrieve all of your past orders so that your re-orders are foolproof!
Save this file to a folder on your hard drive, print out the form, and save a copy in your Embroidery Information Binder.
Link to Download Form:Embroidery-Room-Worksheet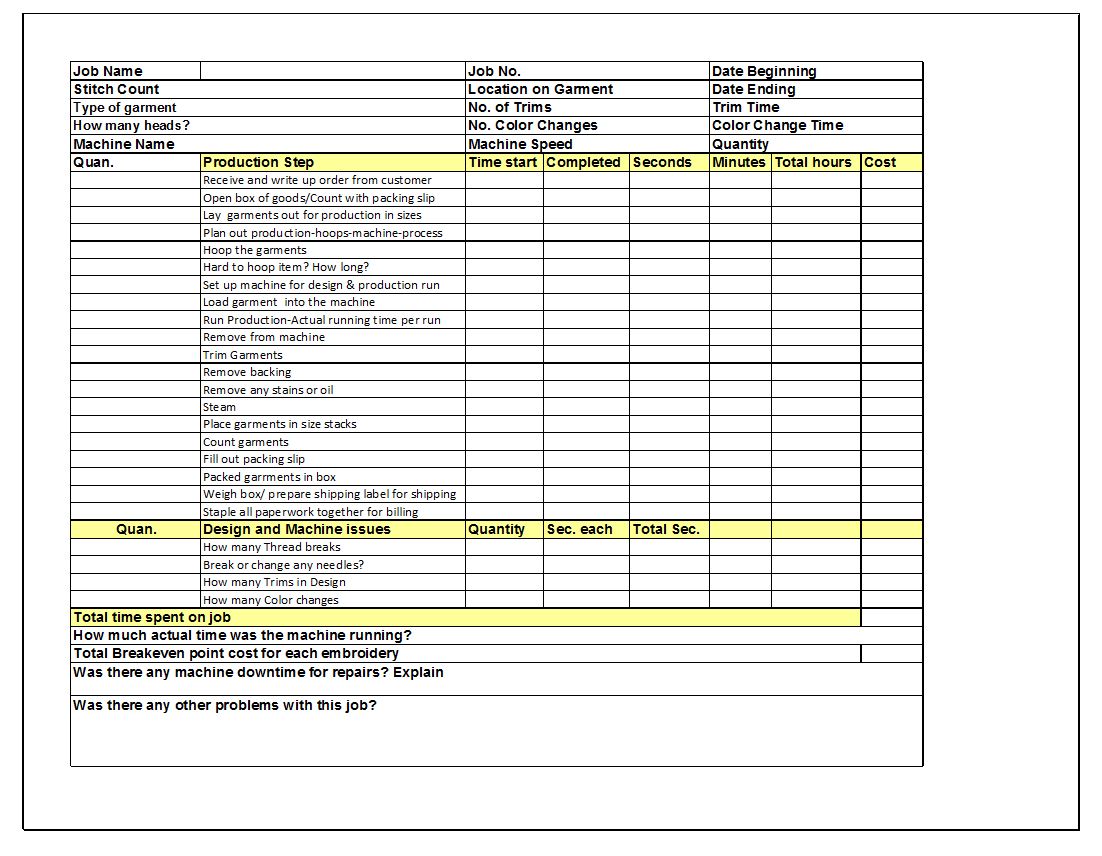 The Embroidery Production Timing Form and Artwork & Design Tracking Form
Download each of these forms so that you can track the amount of time taken during your Artwork prep and Production processes. If you are having issues with any one of your production processes, this will help you to pinpoint those trouble spots.
Save them to your hard drive, print out some copies, and save them in your Embroidery Binder.  Make sure you are tracking each and every job.
Link to Download Production Form: Production_tracking_and_timing-1
Link to Download Artwork & Design Tracking Form:  Artwork-and-Design-Tracking-and-Timing1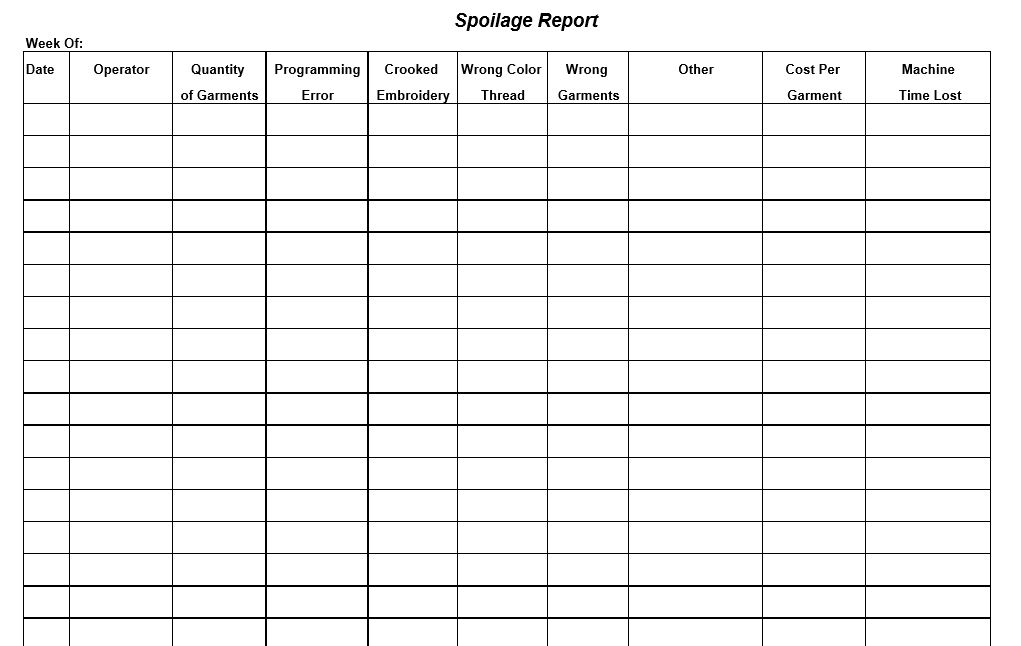 The Embroidery Spoilage Report
This Embroidery Production Form, "The Embroidery Spoilage Report", will help you to keep track of all of your errors in production. It will track what type of error it was, how many pieces were spoiled, the time involved, the operator who created the error, and the total cost! This will help to determine if it is carelessness or if there is an area in your production that needs to be addressed. Perhaps some additional training is necessary. This Embroidery Spoilage Report is extremely valuable, especially if you have to prove to an employee that he or she is costing you money!
Save it to your hard drive, print out a copy, and place it in your Embroidery Binder.
Link to Download Form: Spoilage-Report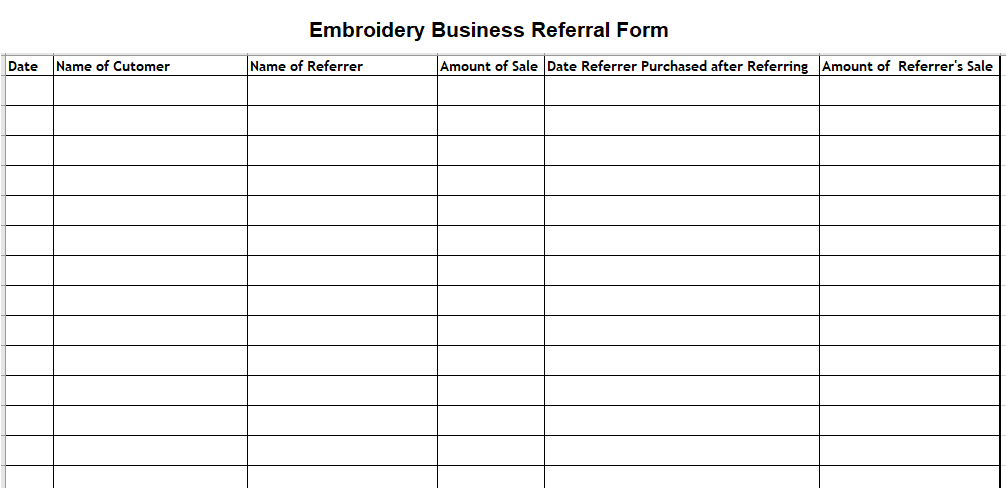 The Embroidery Business Referral Form
This Embroidery Business Referral Form is to be used to keep track of customer referrals to your business.  When someone refers a new person to you, you want to keep track of the name of the person that made the purchase and the name of the person that made the referral.  That way you can reward the person that made the original referral.  This is the easiest and most cost effective way to build your business.
Save it to your hard drive, print out a copy, and place it in your Embroidery Binder.
Link to Download Form: Referral-Program